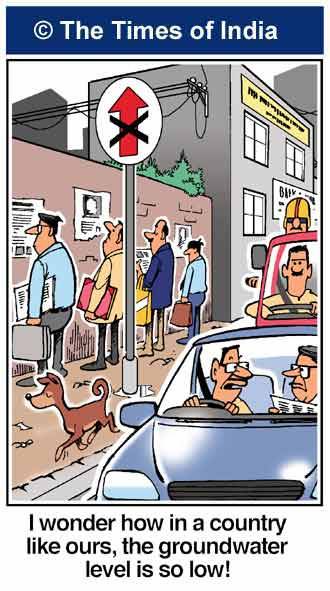 On any trip through any part of Bangalore, one catches a glimpse of a man relieving himself. It's normal to have several such sightings. These sightings of this 'natural' behaviour are the inspiration for the cartoon printed in ToI, shown on the right.
In fact, that is true in all cities in India (except Mumbai where you have to look in the side lanes). One photo journal of men peeing around the capital city of Delhi shows the rich diversity of sightings.
I remember when my childhood neighbour painted his wall, he decided to paint some images of Indian dieties, to prevent the wall from getting dirty from pee, paan spit, and posters.
A photo by T. Trompeter in 1991, below, shows a Bangalore where there were 'facilities' for men to pee – the wall was tiled! Maybe this doesn't exist now, but it clearly has not been missed.
The sight of a woman and a daughter standing next to a motor cycle at the edge of the road, waiting for the man (wearing a helmet and facing the wall) to complete his business sparked a thought: Do Indian women pee? It struck me that i have never seen a woman relieving herself near the road. Men get to relieve their biological urge anywhere there is a wall. In the absence of public sanitation facilities in Indian cities, one should expect to see signs of women relieving themselves. Even if it's just the blocking of the actual act from passing eyes, the evidence should be there. Yes, it is most embarrassing and an affront to dignity but sometimes you got to go. Or don't you?
The only conclusion i can make is that Indian women don't pee. Well, at least, they can go through the entire day without visiting a loo.
A friend spent a week in a village in Gujarat and told me how she and the women would get up at five in the morning and all the women would go as a group to answer Nature's call in the dark. The elder women would form an outer circle to protect from prying eyes. And then nothing for the rest of the day. A Korean-American friend visited another (commercial) town in Gujarat and while the two males in the group enjoyed relieving themselves whenever and wherever, she had to go an entire day without bladder relief. I live in a nice gated community in Bangalore and while there is a facility for security guards, for other staff (gardeners, sweepers, …) there is none. It's not that they can't go into the security shed, but it's highly unlikely that women workers will. So, a full day's work demanded, with lunch break, but no sanitation facility. This essay was sparked by another friend who after visiting me told me that she wanted to use the bathroom before she left, "Not because I need to go, but because I don't know when next I will be able to go".
Yes, women, have it tough. Urban facilities are rare, and good facilities are rarer. Sulabh, the household name in public sanitation, has found its name copied everywhere, with little aspiration towards the standards that they hold dear.
A study by Arghyam titled, Ashwas, highlighted the dismal sanitation situation in rural Karnataka, just outside India's Silicon Valley with its most globally successful and most marketed IT class. In this state, 78% of the rural population does not have access to sanitation and often the village maps show the open defecation places dangerously close to the water sources.
What is most damming is the statistics used in the water sector to show progress. The Nirmal Gram Puraskar is a prize given to a village where open defecation is history, all households have access to toilets and, they are all used. In addition, all schools should have toilet facilities. The awards are used in government statistics and by institutions (such as the World Bank and the UN) to show progress. The Ashwas report shows that of the 14 surveyed winners of the Nirmal Gram Puraskar in Karnataka, not one was worthy of the prize a year following the award; they had all regressed to some level of open defecation. Both these awards and the sustainability of projects are huge discussion issues, and should serve a warning about reading too much into prizes and progress metrics being touted.
In this nation of a billion we are rushing towards ensuring a mobile phone for all and a TV too. The GDP grows in that rush and we consider ourselves advancing.
However, can we consider ourselves advanced if we don't provide private, accessible, and hygienic sanitation facilities for all?  Jawaharlal Nehru's statement has been forgotten: "The day everyone of us gets a toilet to use, I shall know that our country has reached the pinnacle of progress". Maybe we should consider another metric for progress based on Nehru's vision – the number of public water and toilet facilities. Maybe we should consider ourselves having advanced to the next stage only when there is safe drinking water and access to private and hygienic sanitation facilities for all – especially women. Then we will know that we have arrived, not by economic statistics, but by sight or lack of seeing anyone peeing in public, by smell or lack of smell when we pass through slums and villages, and by stories or lack of anecdotes of women having to hold it.
Yes, Indian women do pee, and they should be allowed to do so whenever they want, with dignity and privacy.